Create your dream outdoor space
Our luxury canopy pergolas have customisable modern timber or aluminium frames and weatherproof retractable pergola shades that can be used all year round. Transform your outdoor area with a bespoke premium pergola with retractable roof, providing a patio canopy or relaxed outdoor space.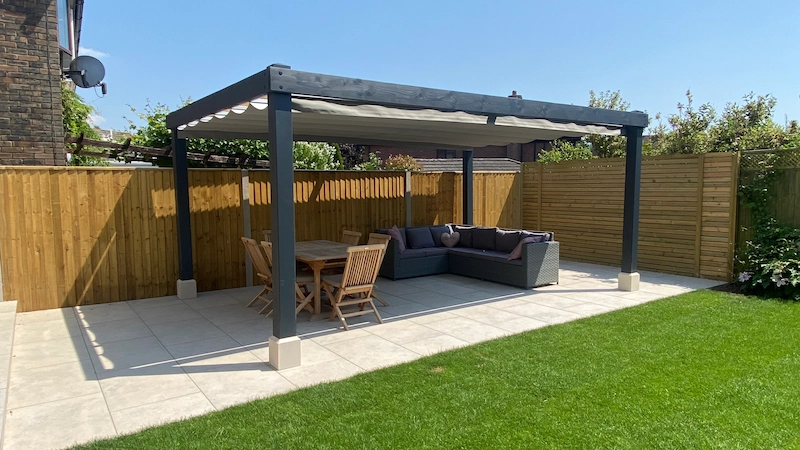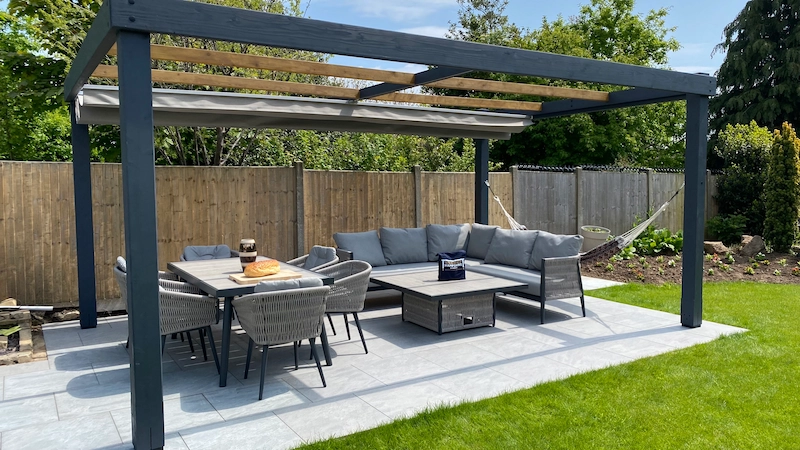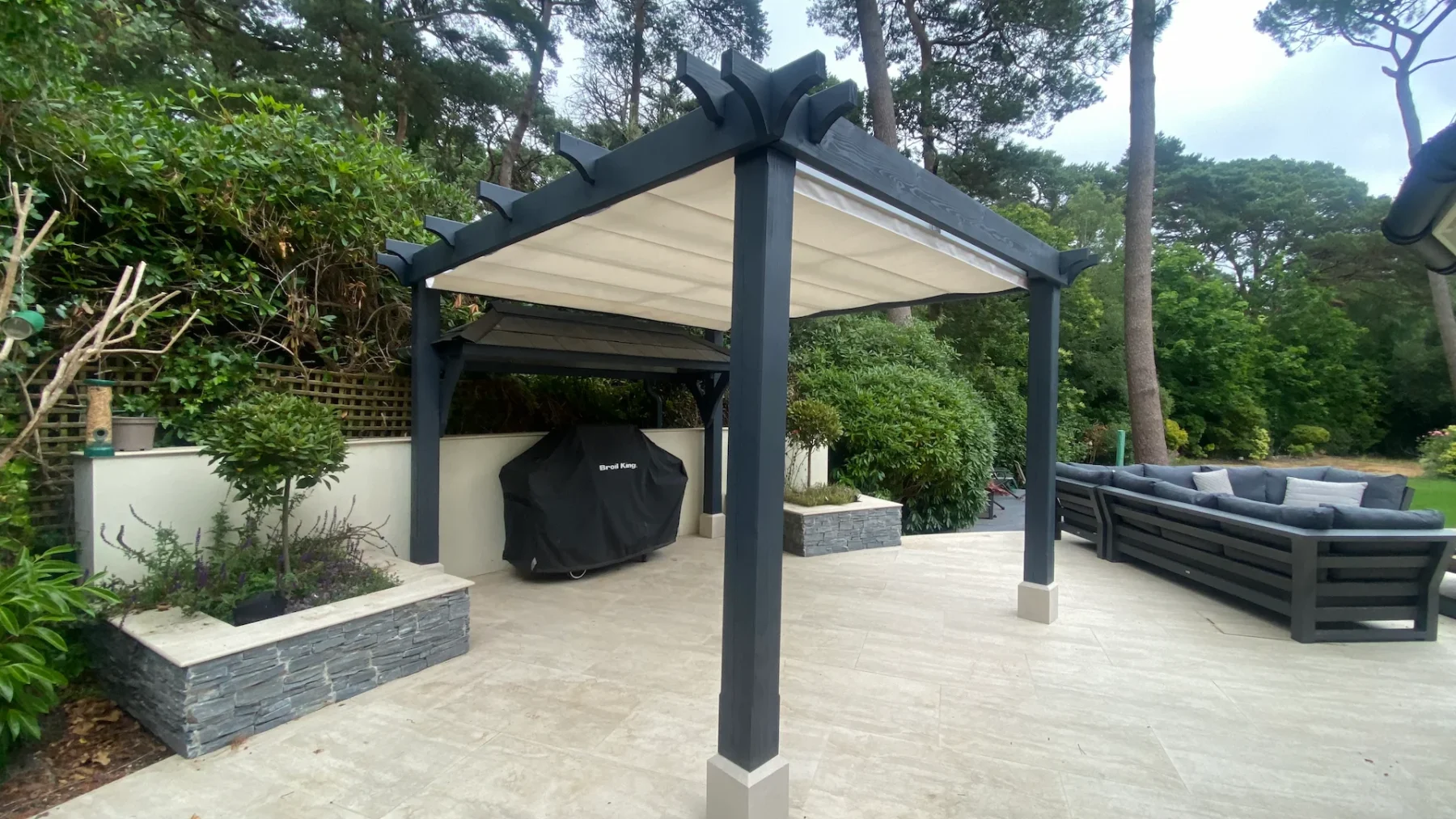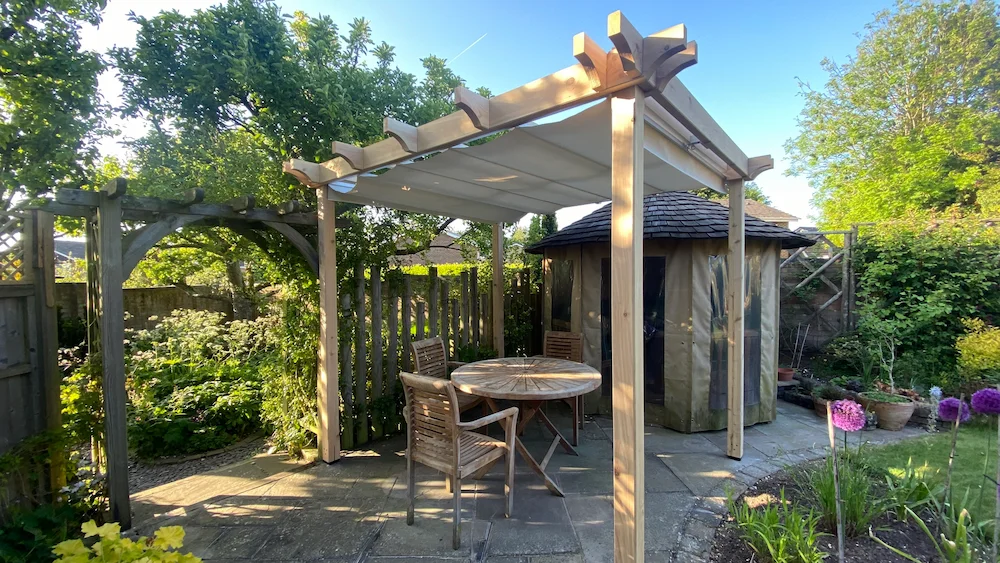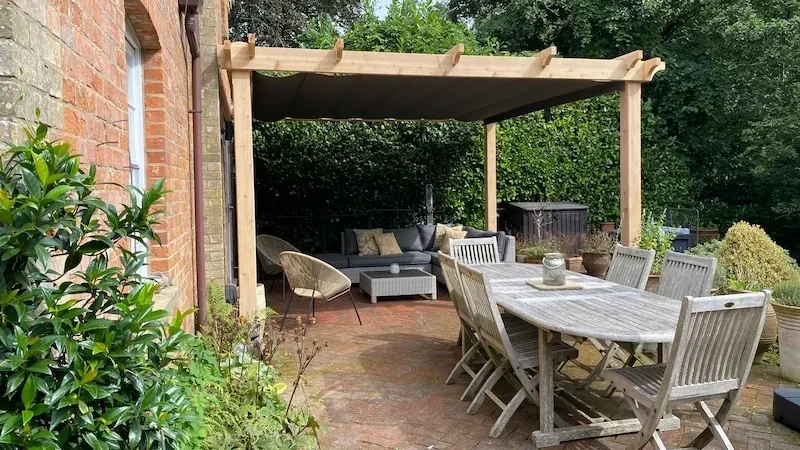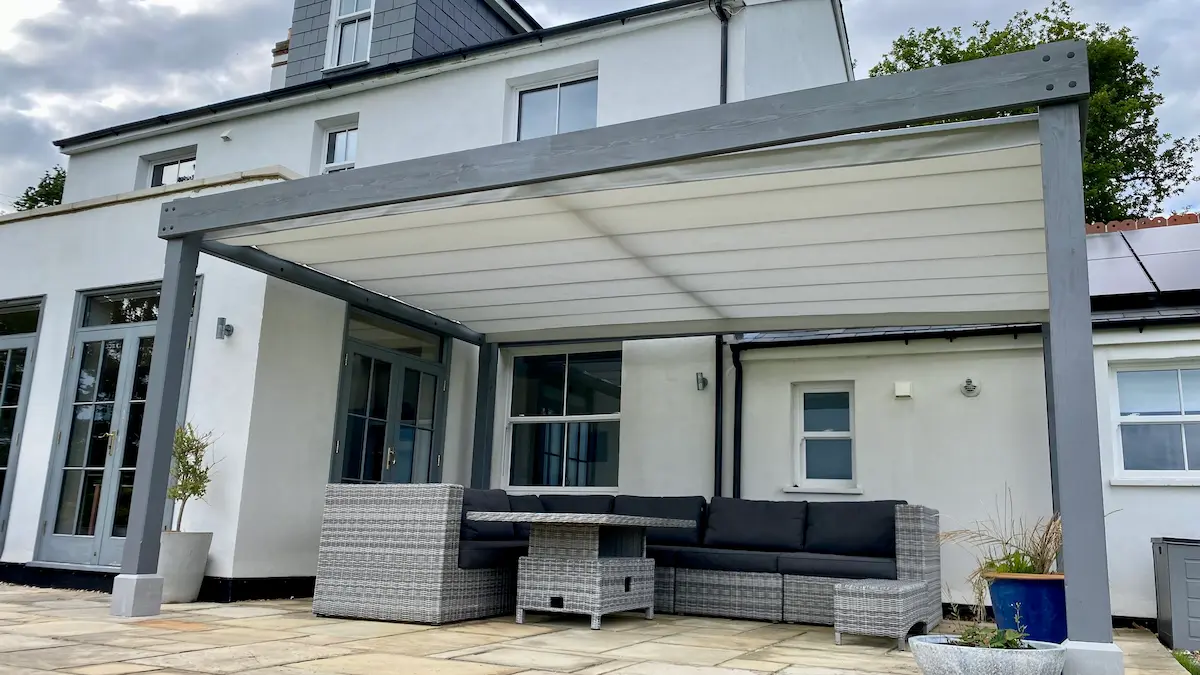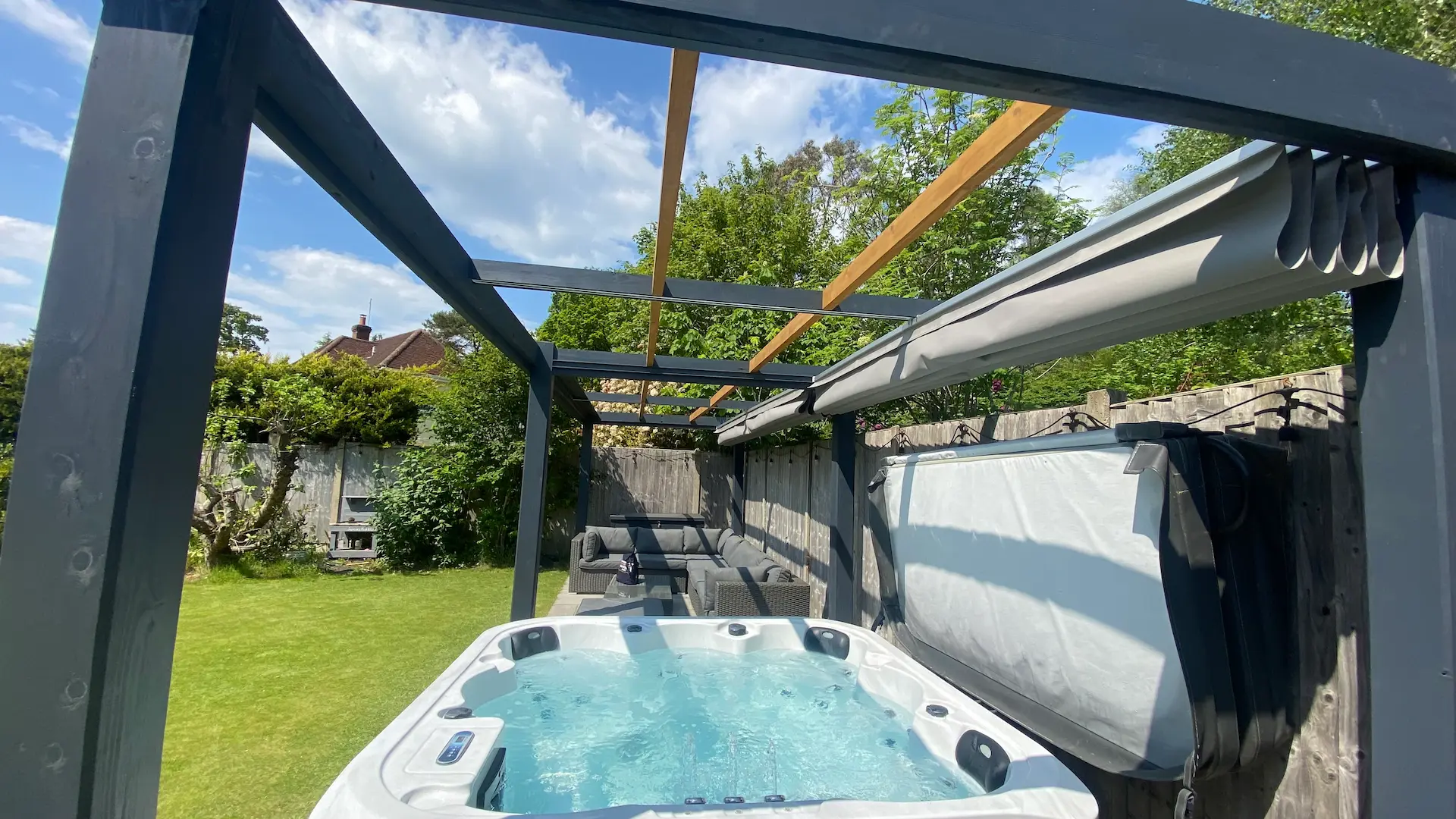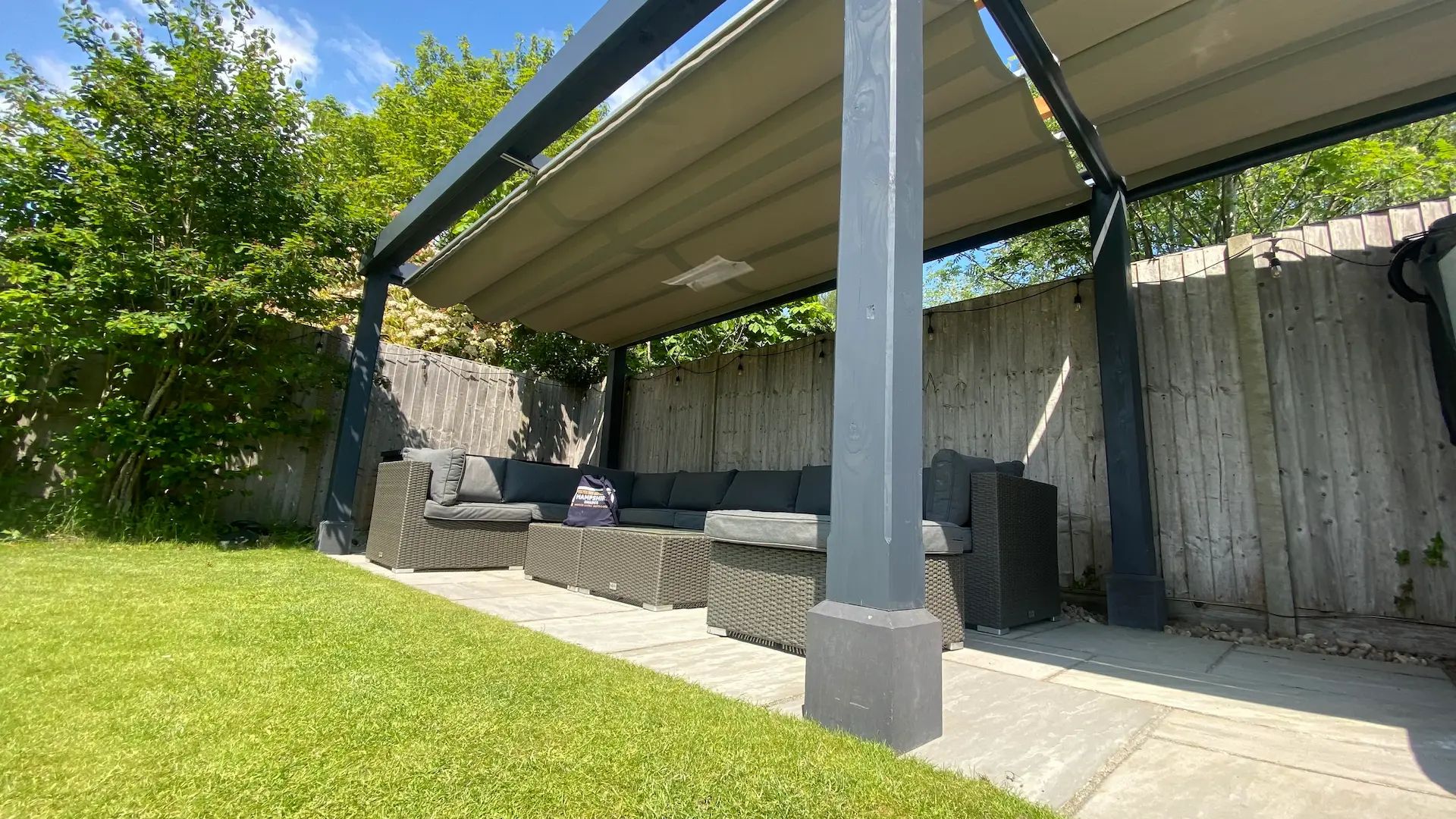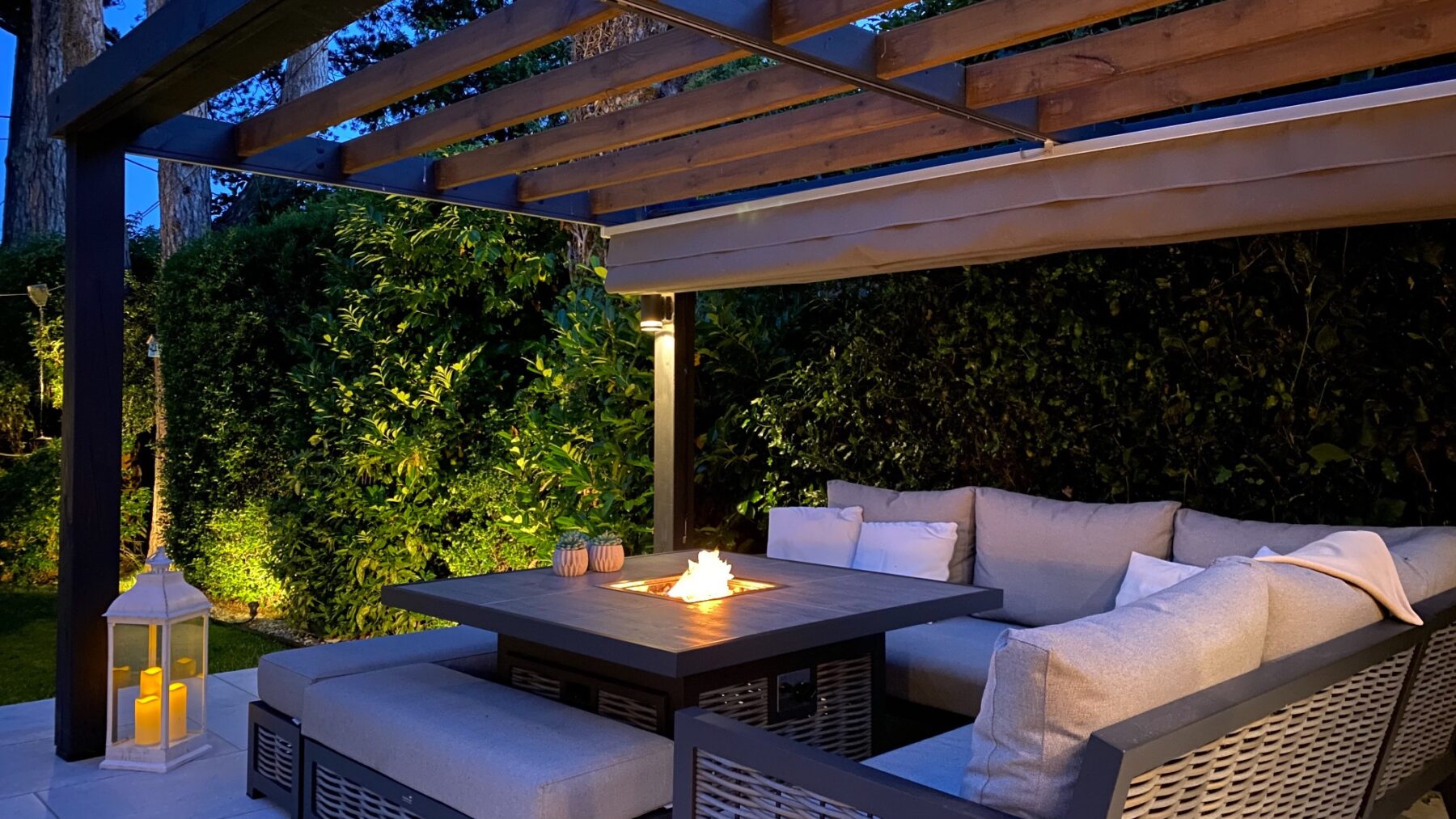 Canopy pergolas made in the UK
All our timber canopy pergolas are designed and custom-built to your requirements in our workshop here in Hampshire for installation across Hampshire, Dorset and Surrey.
We understand how temperamental the British weather can be, so we created our canopy pergolas to offer respite from the rain (as well as the sun), allowing you to enjoy your hot tub, pool, outdoor kitchen or entertainment area – whatever the weather!
Darren Simmons
Google Review
"Super new outdoor living space! Delighted that we decided to get it done properly and custom built. Mark and his colleague were brilliant from start to finish and we're delighted with the result."
George Leighton
Google Review
"The service I've received from Hampshire Shades has been first rate from start to finish. The attention to detail from the installation team was second to none. Nothing was too much effort for them. Really impressed. Left with a structure that looks incredible and will allow us to make full use of our outdoor space for this year and years to come. I'd become fed up of putting cushions away and getting them out when needed - I can now leave them out all summer in the knowledge that they will stay dry whilst they are under cover. The materials used are of the finest quality. The structure is absolutely solid and certainly built to last."
"Great care was taken in the design to deliver what we wanted ... worked hard on site without any bother, to get the final product to meet our bespoke requirements."
P & M Basingstoke
Google Review
"We were frustrated with the inability to use our patio table and chairs more regularly because it was too hot and sunny. We contacted The Hampshire Shade Company to see if they could help. Our garden is relatively small so we were initially concerned that the structure and shade would look out of place and be too dominant. With Mark's help, supported by his experienced team, what we now have blends in and feels as if it has always been there. Needless to say the area has been used often and we are delighted. Thoroughly recommended."
Mix and match frames and pergola shades
Explore pergola frame options with the tabs below...
We offer timber pergola frames in softwoods such as treated Pine or Cedar and hardwood such as Oak or Iroko. All timber is sustainably sourced to minimise the impact on the environment, while offering a natural look which compliments period homes and cottage gardens.
The frame can be supplied unpainted for a natural finish that will weather and grey over time or hand-painted in our workshop prior to installation in a range of contemporary coloured wood stains. We can also use other external paints or wood types on request.
The main elements of our pergola are 150mm square posts, together with beams up to 200mm in depth with the correct durability and use class to provide a strong and stable frame that can span a large area.
If you're looking for a modern pergola to fit with a contemporary property, we can offer an aluminium frame pergola with retractable canopy. We are an approved partner for the complete SELT range including aluminium pergolas, side shades and awnings.
With over 35 years of design and manufacturing experience, we believe their solutions fully compliment our waterproof fabric shades. They benefit from:
Extruded aluminium construction with steel elements
Water drainage system integrated with the construction
Sun and waterproof system
Construction and roofing painted in any RAL colour (optional)
Roofing made from rotating slats
Free-standing and wall-mounted version
Optional LED lighting on perimeter of pergola or light points in blades
How our waterproof pergola canopy works
If videos have not loaded, please accept cookies.
Consider shade options for canopy pergolas with the tabs below...
The main benefit of having a pergola with retractable canopy is that when the sun is out, you can pull back the whole pergola shade and enjoy it.
The design of our completely waterproof pergola canopy is unique and bespoke to individual sizes and your requirements. It is manufactured from aluminium and anodised to protect it from the elements with other materials chosen for life outdoors.
We currently provide the retractable pergola canopy either as manual or rope driven
, in a choice of fabric colours together with a modern pergola frame. Common to all shades is a single track that the pergola shade beams operate along. This always ensures smooth operation without any binding and can be stopped at any desired position, from fully open to fully closed. This single track carries the shade and its beam and provides sufficient fall for the rain to be diverted freely to any chosen side of the pergola. We use a marine-grade coated acrylic canvas as our shade material; it is designed specifically for outdoor conditions and is perfect for use in our inclement weather. A special coating on the surface creates a barrier against the any growth of mould and mildew and reinforces the fabric's water-repellent properties. A polyurethane coating adds a barrier layer to the underside of the acrylic canvas, increasing its water column rating to 1000mm plus, giving a waterproof rating.
When sourcing a pergola with retractable roof, you might consider either a pergola with retractable waterproof canopy, or a pergola with a metal louvred roof (slats that usually rotate to allow in the sun, but cannot be retracted back fully). We have partnered with Selt to offer an aluminium louvred roof which is fitted as standard with all aluminium pergolas. The louvred roof can also be fitted to our timber pergolas or other structure to provide a completely unique design. All louvred roofs can be controlled remotely with the electric motor, whereas our canopy pergolas are operated manually by a rope or detachable crank handle.
Enhance your outdoor space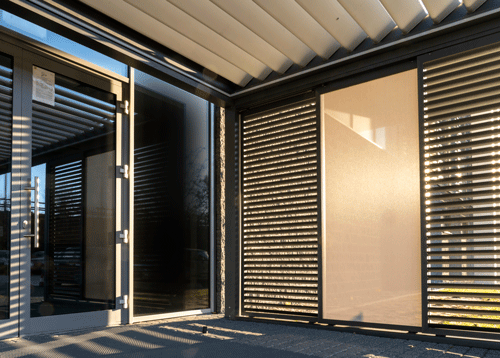 Side screens & shades
Sliding side screens and motorised side shades are available for timber or aluminium pergolas, offering protections from the weather and additional privacy.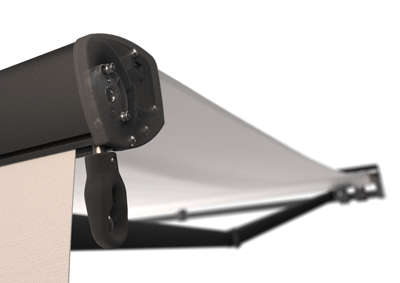 Awnings
We also offer SELT motorised awnings as an alternative shading solution for smaller patio areas. Available with an adjustable front valance for more shade.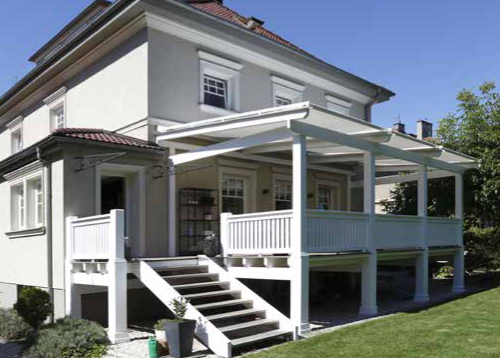 Veranda
Alternative shading solution to fit over or under a conservatory and protect from the hot sun.
Accessories
We can offer a range of accessories to compliment your pergola, such as LED lights and out door heaters.
Shade & frame colours for canopy pergolas
Why choose Hampshire Shades?
Tell us about your project
We offer competitive pricing, using only the best and most suitable materials for longevity, ease of use and aesthetic function. We provide a full service, from 3D concept to bespoke design, manufacture and installation of your pergola frame and shade to your chosen specification.